Key Facts
Target
16 Million

Population

8.6 Lakh

Pregnant Women

8.2 Lakh

New-borns

1.2 Million

Mothers (0-2 year's Children)

75,000

Self Help Groups

5,100

Gram Panchayats
Time Frame
The Uttar Pradesh Community Mobilisation Project (UPCMP) a five-year initiative (2011-16), funded by the Bill & Melinda Gates Foundation, aims to develop and scale up evidence-based interventions to achieve the goal of improving reproductive, maternal, new-born and child health and nutrition (RMNCHN) health behaviours by an average of 10 percent points among marginalised population in UP. The project is being implemented by a consortium constituting the following organisations: RGMVP as the key implementation partner, Public Health Foundation of India (PHFI) as the lead partner in provision of techno managerial oversight to the project, Population Council (PC) and Boston University - Centre for Global Health and Development (CGHD).
RGMVP will form and nurture new SHGs in 160 blocks, implement and monitor project activities and build linkage between social platform and frontline health workers. PHFI will support the development of maternal health package, assist RGMVP in strengthening its organisational capacity, develop effective scale up system and document and disseminate project findings. PC is responsible for conducting independent baseline and end line surveys in the learning and scale up phase and will conduct regular concurrent surveys to assess programme efforts and system changes. CGHD will provide technical assistance on maternal health and project Monitoring Learning & Evaluation (MLE) activities.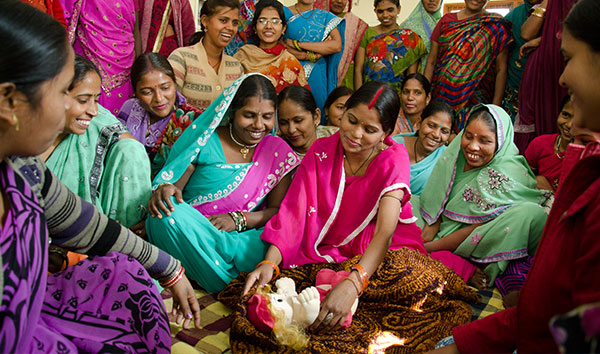 The project seeks to layer health programmes on the SHG platforms created around micro-finance to increase knowledge, enhance skills and promote improved behaviour and practices for safer pregnancies, new-born care and child health. Using the SHG platform, the project will provide training on RMNCHN, disseminate RMNCHN knowledge across the intervention area, and form linkages with the local health system.
The health intervention will address maternal health, neonatal health and child health through strategies aimed at identification of target women, community mobilisation and demand generation, interaction with target women during SHG meetings, attaching a SHG member with a target woman, and home visits to women who have recently delivered.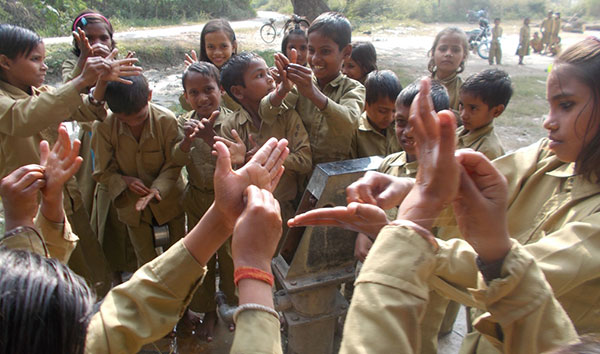 Figure
Maternal Health
Identification of danger signs and referral
Complications readiness plan
Family planning, birth spacing methods
Promotion and facilitation of ante-natal and post-natal care
Neonatal Health
Thermal care
Breastfeeding
Prevention of infection
Identification of danger signs and referral
Child Health
Routine immunisation
Pneumonia management
Diarrhoea management
Complimentary feeding practices