Eight-year-old Vikas lives with his parents, one brother and sister in Jarmau village in Amethi district. His father, Ghisyawan, is a daily wage labourer and works in Jagdishpur block; his mother Sunita is a housewife.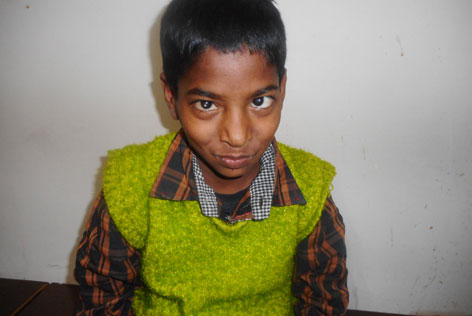 Vikas had low vision from birth. He could barely see and hence was never admitted to school. Vikas, like his siblings, wanted to go to school and study. His eyes were too weak for him to be able to read. He wanted to play like his friends but his movement was limited due to his vision. The parents were poor and did not have the means to take Vikas to a private hospital for treatment.
In Jagdishpur, Ghisyawan heard about IGEHRCís free eye screening camp. At the camp in Inhauna, Vikas was diagnosed with cataract in both eyes. After surgery in both eyes, Vikas has regained his vision. He is happy that he can also go to school like his friends and can read his brotherís colourful books.
His mother, Sunita, is grateful to IGEHRC for organising eye camps. She says that it gave her son a new lease of life; he can no enjoy a normal childhood.